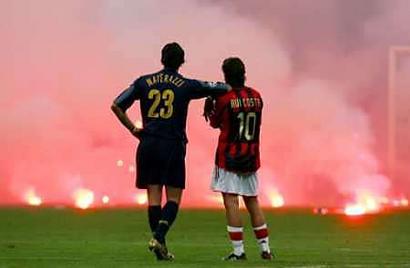 A 4 team tournament featuring AC Milan, Inter, Chelsea, and Club America will take place this summer in the United States. 
Inter plays against Club America on July 19th at Stanford Stadium in Californian than plays Chelsea two days later at the Rose Bowl. 
Milan plays Inter on July 26th at Gillette Stadium in Massachusetts, which is surprisingly only the 3rd time that Milan and Inter will have played each other outside of Italy. The last time they played in the United States was in 1969 at Yankee Stadium. 
I'm very excited about the Milan vs Inter matchup and I've already bought my ticket. I wound up buying the VIP plan so that I can get access to each teams 90 minute practice the day before. I'm not even concerned about the 3 hour drive from New York.
Some other games this summer include Chelsea playing MLS expansion team Seattle Sounders on July 18th and AC Milan playing the LA Galaxy on July 19th in a game that was created as a stipulation in the David Beckham loan.
ESPN will be broadcasting most of the games so be sure to check them out. 
Is anyone else going to the games?